Customised personal coaching
(physical/virtual)
FITNESS BRAVO GUIDES INDIVIDUALS TO ACHIEVE PROGRESSION IN THEIR FITNESS JOURNEYS BY PROVIDING CHALLENGING AND REWARDING WORKOUTS THAT LEAVE ALL FEELING SATISFIED.

WE PROVIDE PERSONAL COACHING THAT ARE UNIQUE TO THE TRAINING SCENE:
1 ON 1 PT
(IN-HOUSE - 55 CREDITS)
(VIRTUAL - 45 CREDITS)
(HOUSE CALL - 70 CREDITS)
2 ON 1 PT
(IN-HOUSE - 70 CREDITS)
(VIRTUAL - 60 CREDITS)
(HOUSE CALL - 85 CREDITS)


SHARE WITH US YOUR NEEDS AND WANTS, AND OUR COACHES WILL WORK TOGETHER WITH YOU TO DEVELOP A UNIQUE PROGRAM TAILORED TO YOUR LIFESTYLE AND FITNESS LEVEL.


HERE ARE SOME EXAMPLES WE CAN HELP WITH:
OBJECTIVE AND GOAL SETTINGS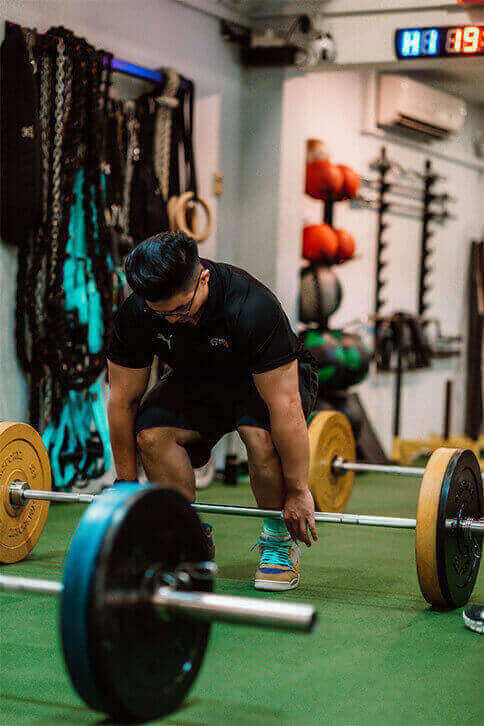 FITNESS
AND BODY
ASSESSMENT
PERSONAL HEALTH DECLARATION
BODY WEIGHT, MUSCLE MASS AND FAT MEASUREMENT
RANGE OF MOTION AND FUNCTIONAL MOVEMENT DIAGNOSTICS
DIET ANALYSIS
FEEL EMPOWERED. FEEL ABUNDANT. FEEL POWERFUL. COME JOIN US.
package bundles available
can be shared
with 1 BUDDY

3 months Instalment plan available
can be shared
with 1 BUDDY

4 months Instalment plan available
can be shared
with 1 BUDDY

4 months Instalment plan available